Monday, September 14th is an Early Release Schedule Day. Attached is the Bell Schedule for Monday.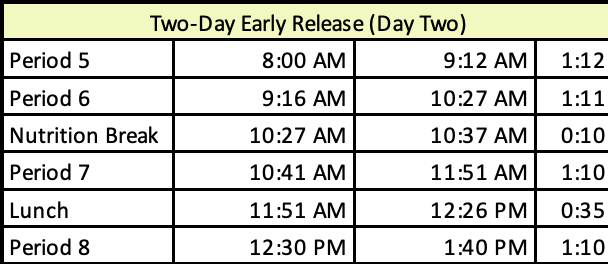 Meal distribution schedule beginning September 1: Mon-Fri 11am-12pm at VonRenner, Hunt, Bonita, Barrington & Yolo. Diablo Grande please call 862-2158 to arrange meal delivery to your door. Free for all children ages 1-18 and includes breakfast, lunch and supper.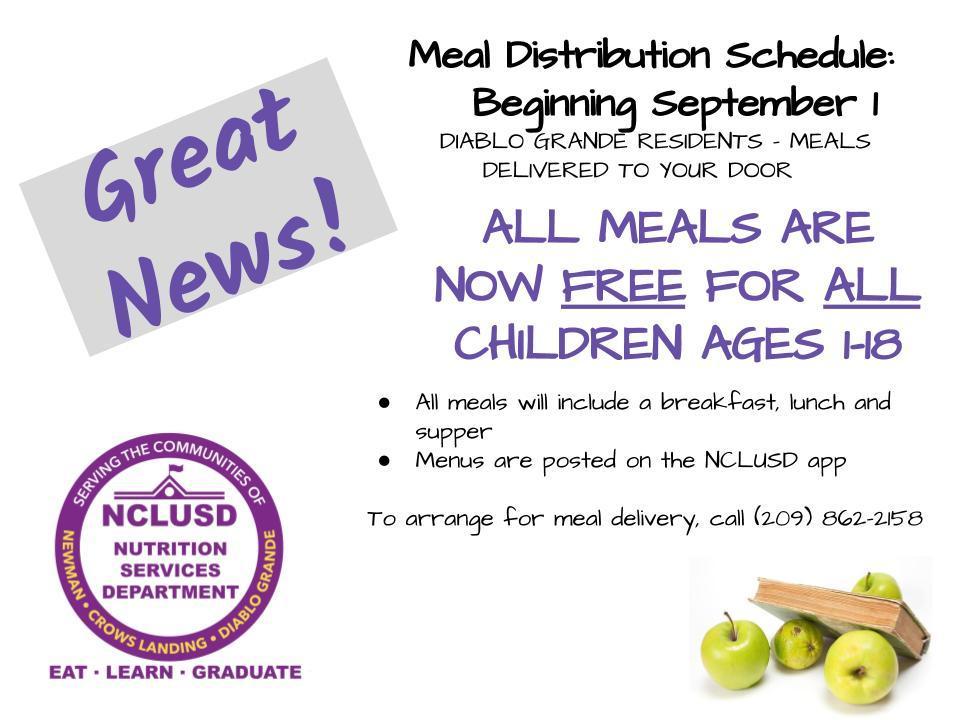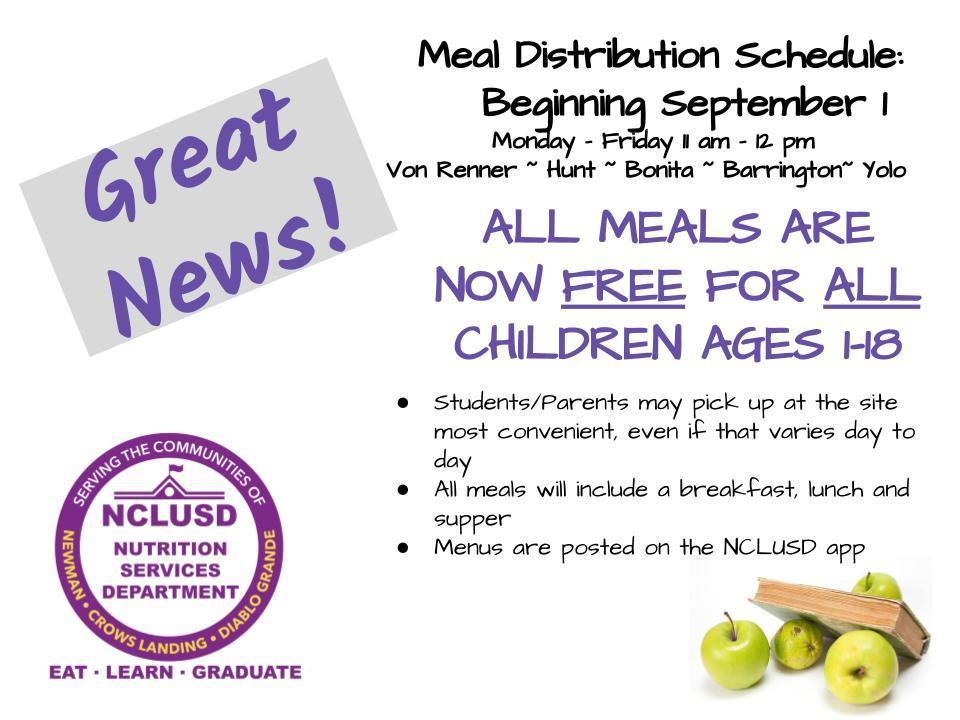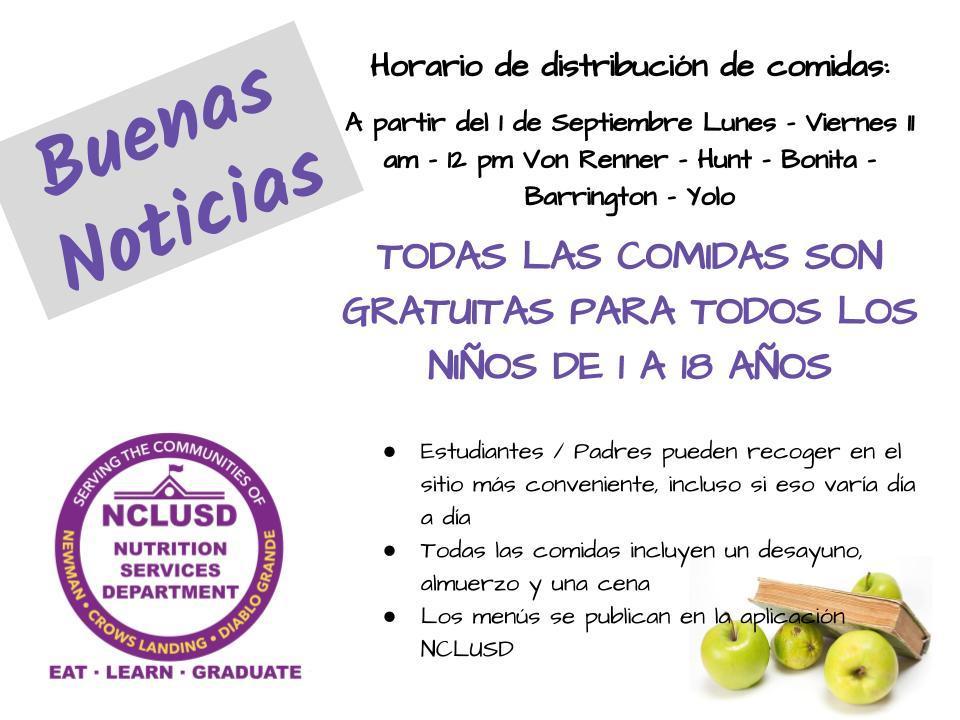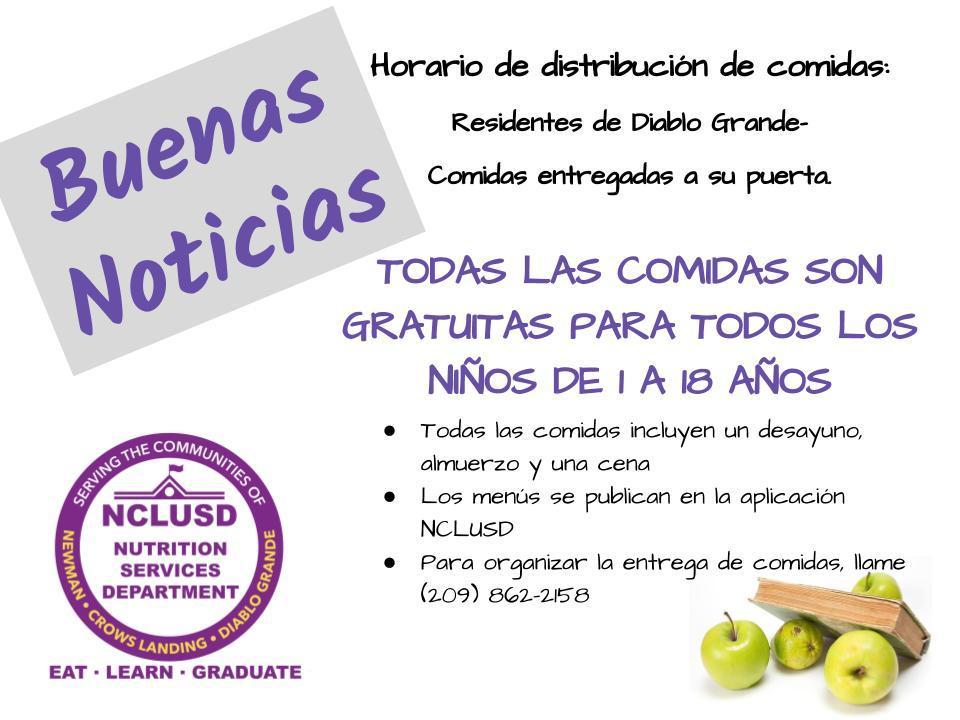 As a reminder, Monday is an Early Release Day. Attached is the bell schedule for Monday.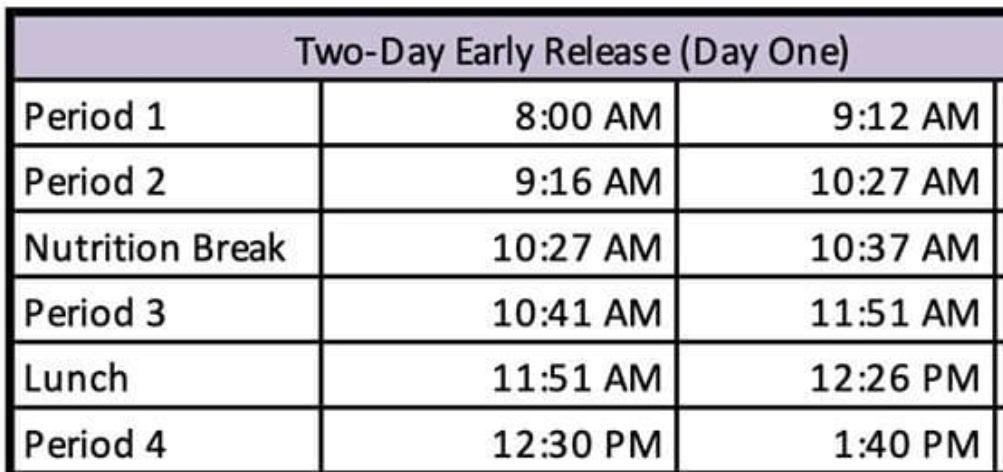 Tonight is our virtual Back to School Night. Teachers have posted the link to their classroom in Canvas. Here is the bell schedule for classes tonight: Welcome 5:50- 5:59 Period 1 6:00-6:10 Period 2 6:11-6:21 Period 3 6:22-6:32 Period 4 6:33-6:43 Period 5 6:44-6:54 Period 6 6:55-7:05 Period 7 7:06-7:16 Period 8 7:17-7:27

Mr. Powell will be live in five minutes. youtube.com/orestimbawarriornetwork

If you need to contact your Learning Director for questions about schedules, school, or college information, please see the attached list.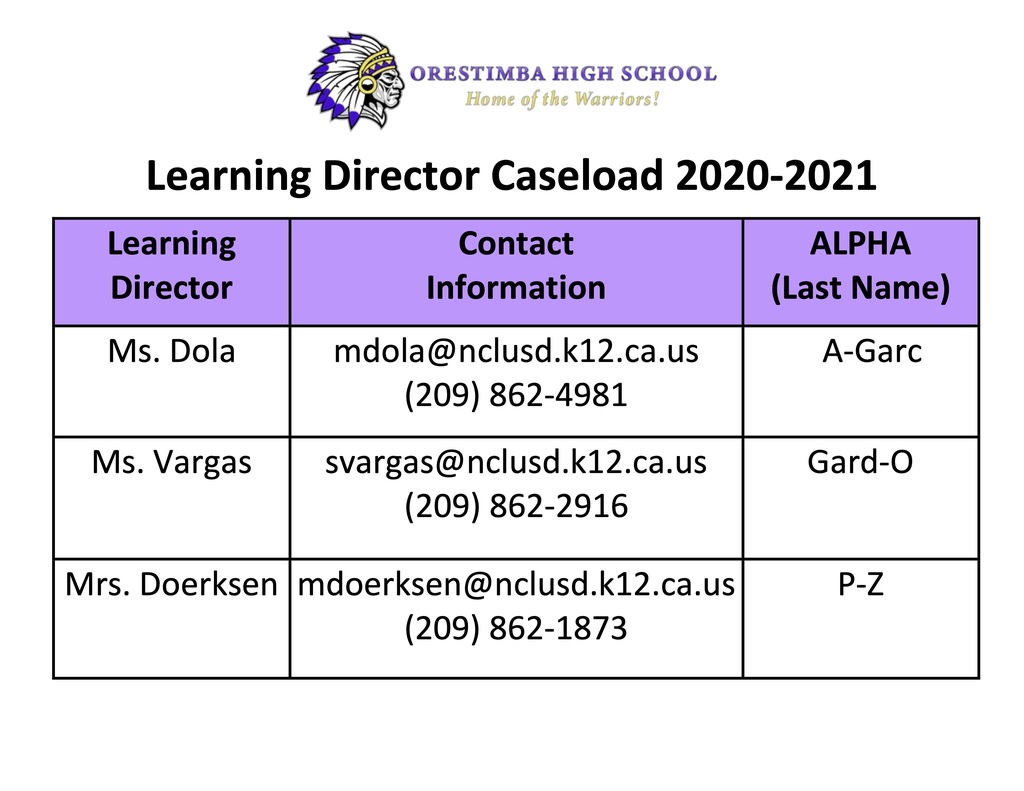 If you are looking for our Block Schedule or Bell Schedule, they are found on our webpage: orestimba.nclusd.org


Here is a copy of the daily schedule of classes, (Purple A Days and Gold B Days) and daily class times.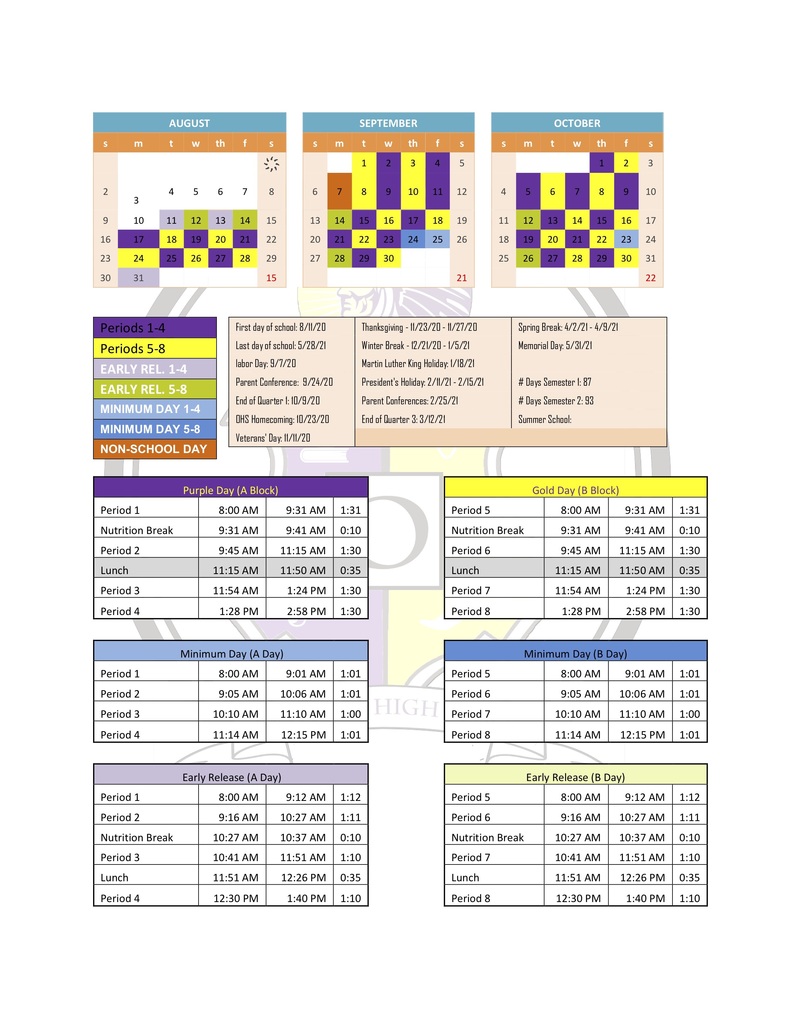 Attached are the expectations for the upcoming school year and how it is different from March.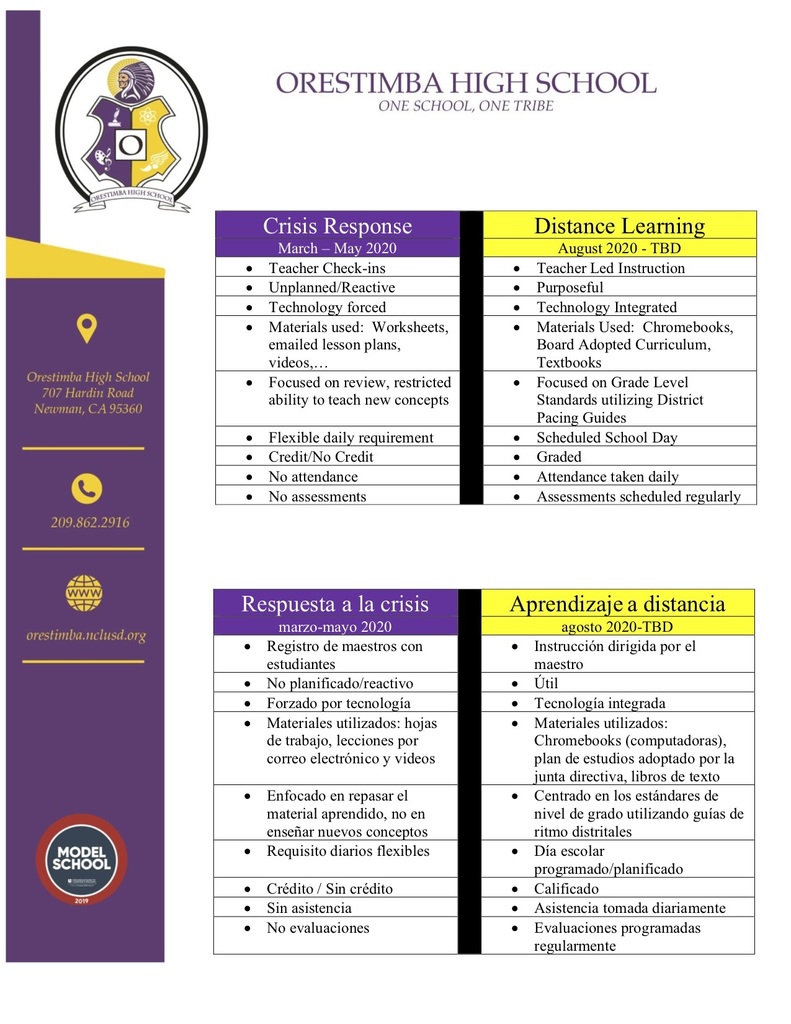 Tonight is the night. Again the administration had hoped to have had a traditional ceremony, which is why they decided to postpone the ceremony until today. No matter what, Mr. Pruett was going to make sure the students walked the stage. If you haven't noticed the stage is set, the signs are out for driving, programs are printed and folded, announcement cards are cut and ready, and we are hoping the pens arrive today (please bring a writing utensil just in case). The speeches and announcements video is scheduled to go live at 5:45 pm today (a little earlier than previously announced). Cars may start arriving at 6:00 pm. As a reminder, Mr. Pruett has already arranged for a lead car to bring in the group, so they will be placed at the beginning of the motorcade when they arrive. Please be patient as we start the Motorcade of Graduates at 7:00 pm. We know there will be a long line of vehicles and we ask that you enjoy your time with your family. Make sure to bring water to stay hydrated. Please share any photos you take tonight and tag Orestimba in them.

All programs are folded and there will be three per graduate handed out by Mr. Loo when the cars are entering the dirt parking lot behind the tennis courts (square 2). This will also be where the announcement slip will be handed out for students to fill out.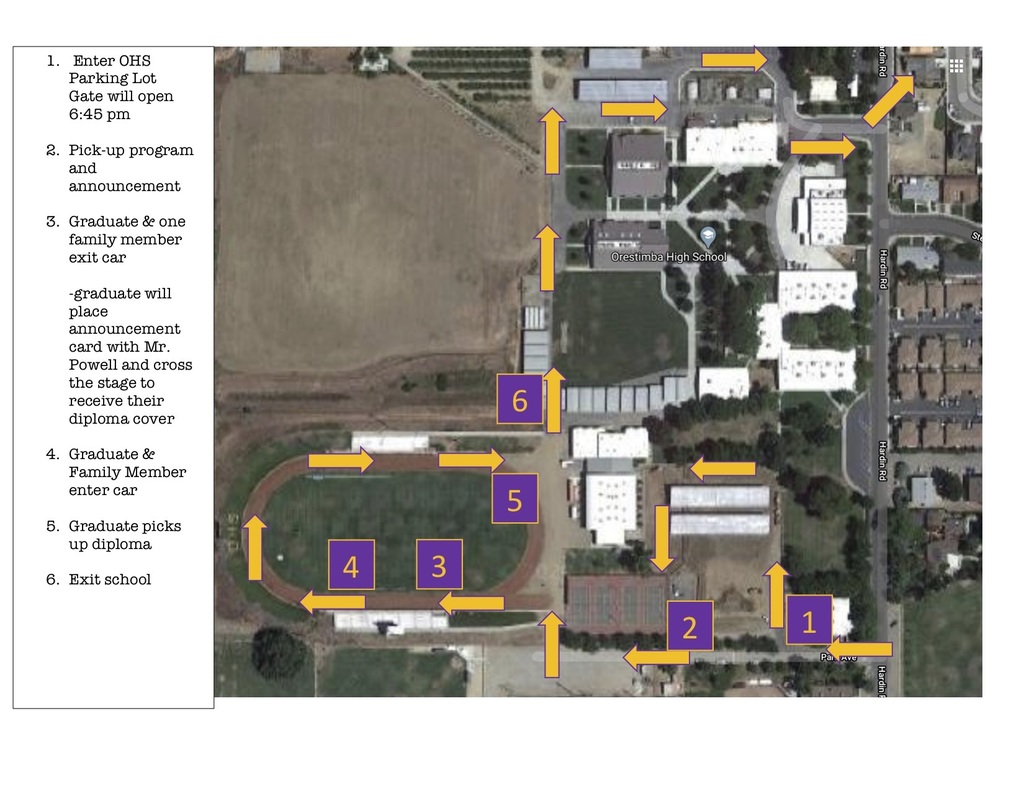 Graduation is scheduled for July 31st. Cars will be able to begin lining up at 6:00 pm. The graduation motorcade and livestreaming will begin at 7:00pm.

Graduation line-up begins at 6:00 pm. Gates will open at 6:45 pm. Livestream will begin at 7:00 pm. La formación de graduación comienza a las 6:00 p.m. Las puertas se abrirán a las 6:45 pm. Livestream comenzará a las 7:00 pm.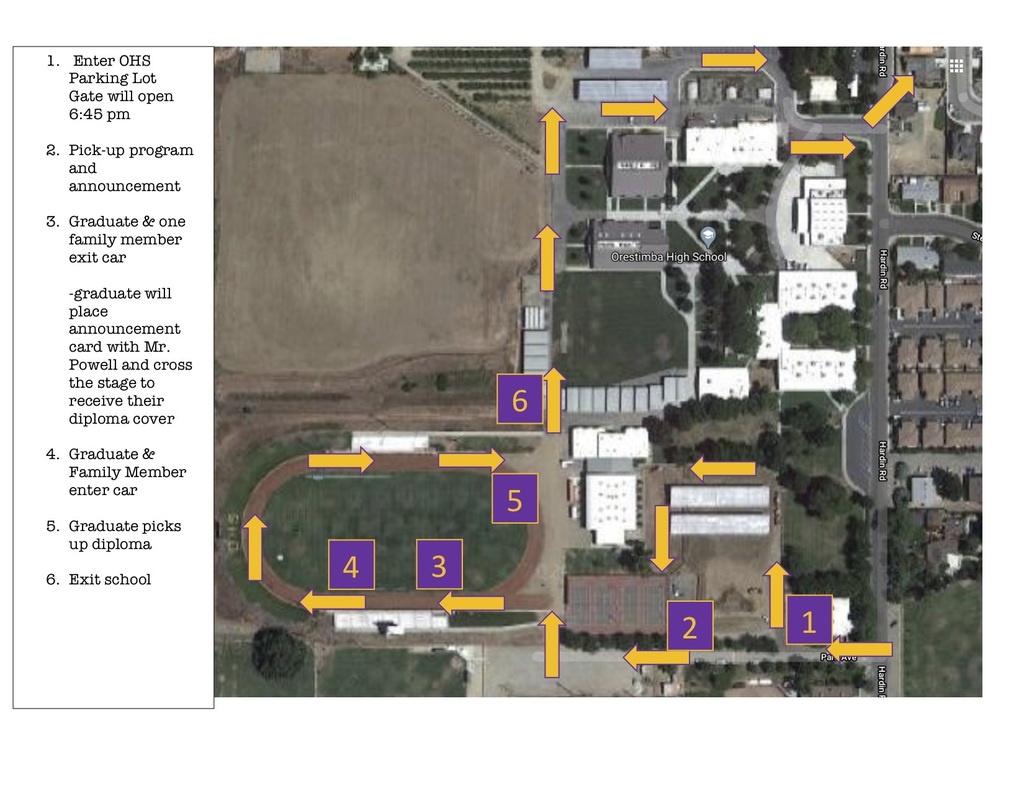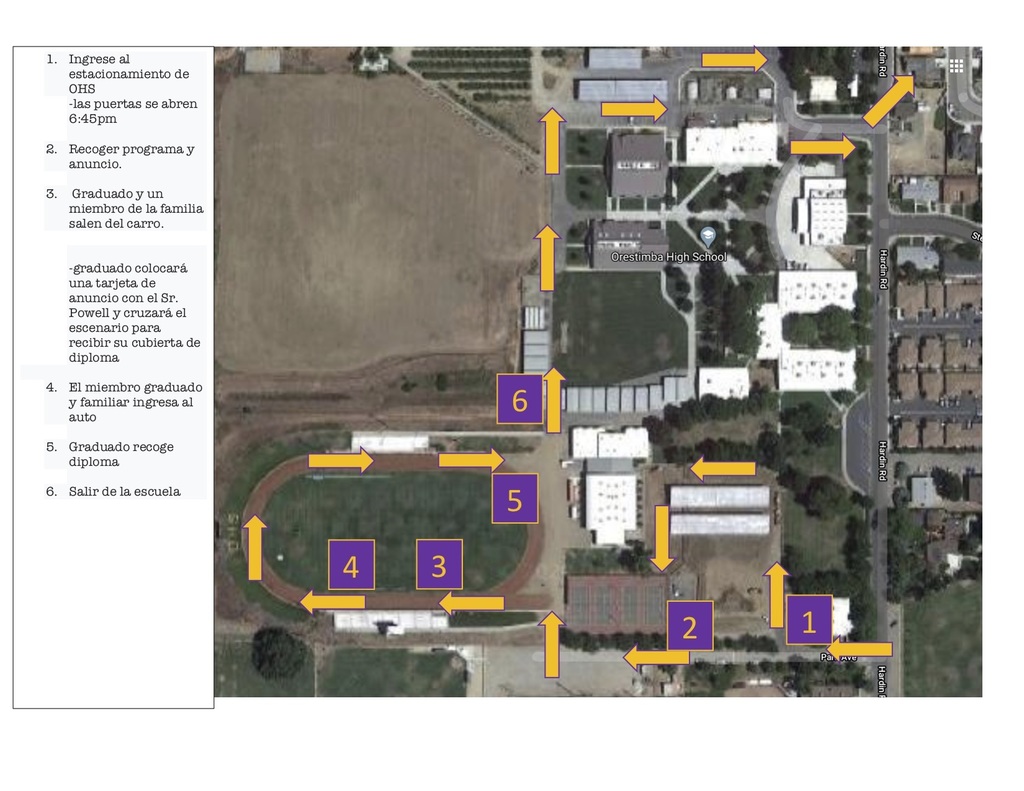 Graduation Announcement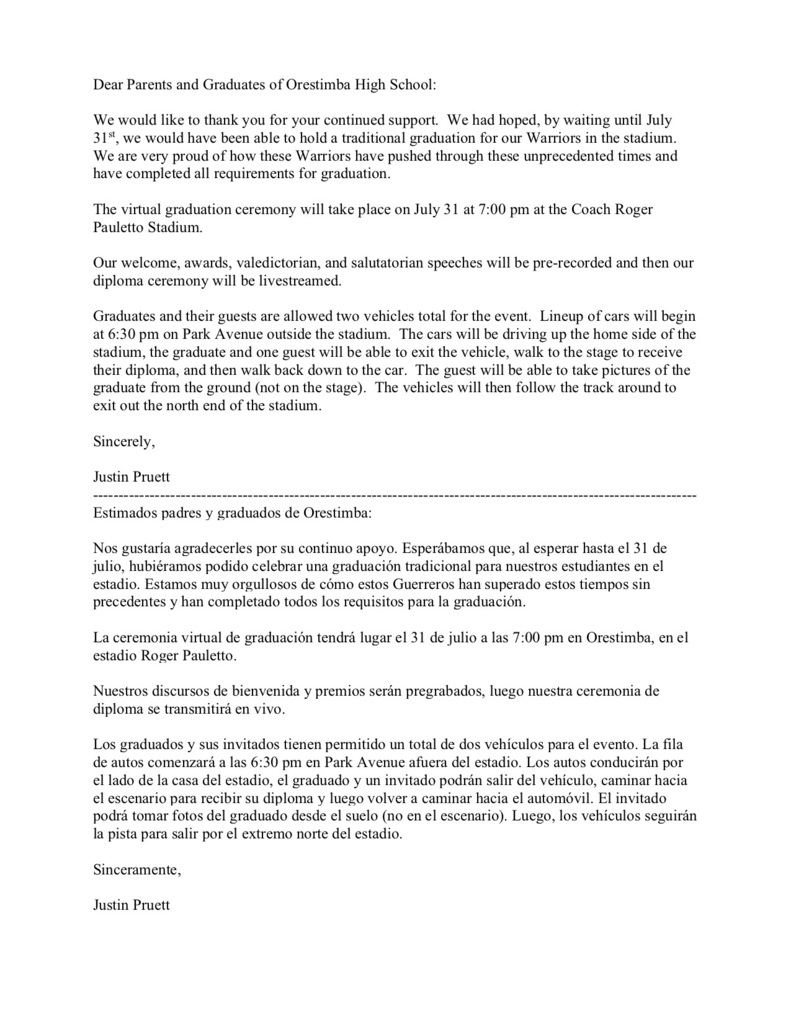 School may be out, but meals are still going! Summer meals will continue at Von Renner and Barrington Monday-Friday through June 30! Meals are served from 11am-12pm. Weekend meals will be provided on Fridays. Puede que la escuela termine, ¡pero las comidas aún se están sirviendo! ¡Las comidas de verano continuarán en Von Renner y Barrington de lunes a viernes hasta el 30 de junio! 11:00 am - 12:00 pm ¡Los fines de semana se proporcionarán comidas los viernes!

NCLUSD is proud to partner with the USDA and AG Link to provide Fresh Food Boxes to families. Boxes will be distributed each Friday, starting May 29 at Von Renner and Barrington from 11am-12pm. NCLUSD is committed to helping families through this difficule time. Boxes are available on a first-come, first-served basis to any family in the community. NCLUSD se enorgullece de asociarse con USDA y AG Link para proporcionar cajas de alimentos frescos a las familias. Las cajas se distribuirán cada viernes, a partir del 29 de mayo en Von Renner y Barrington de 11am-12pm. NCLUSD se compromete a ayudar a las families en este momento dificil. Las cajas están disponibles por orden de llegada para cualquier familia en la comunidad.

End of Year Student Checkout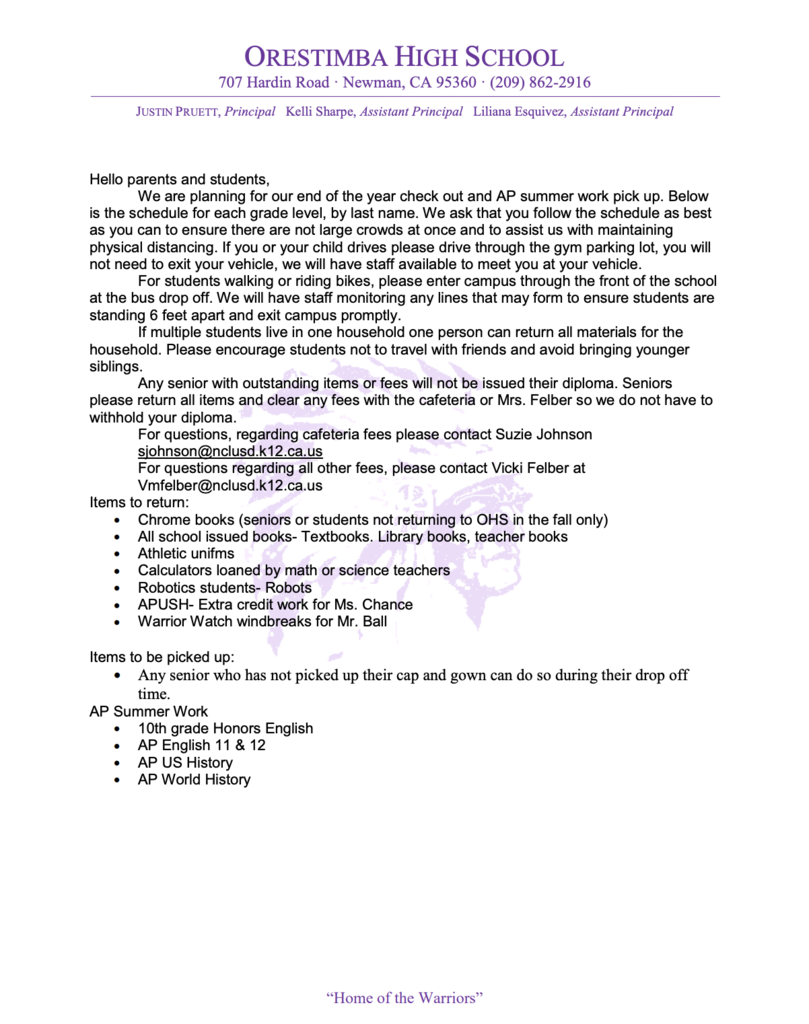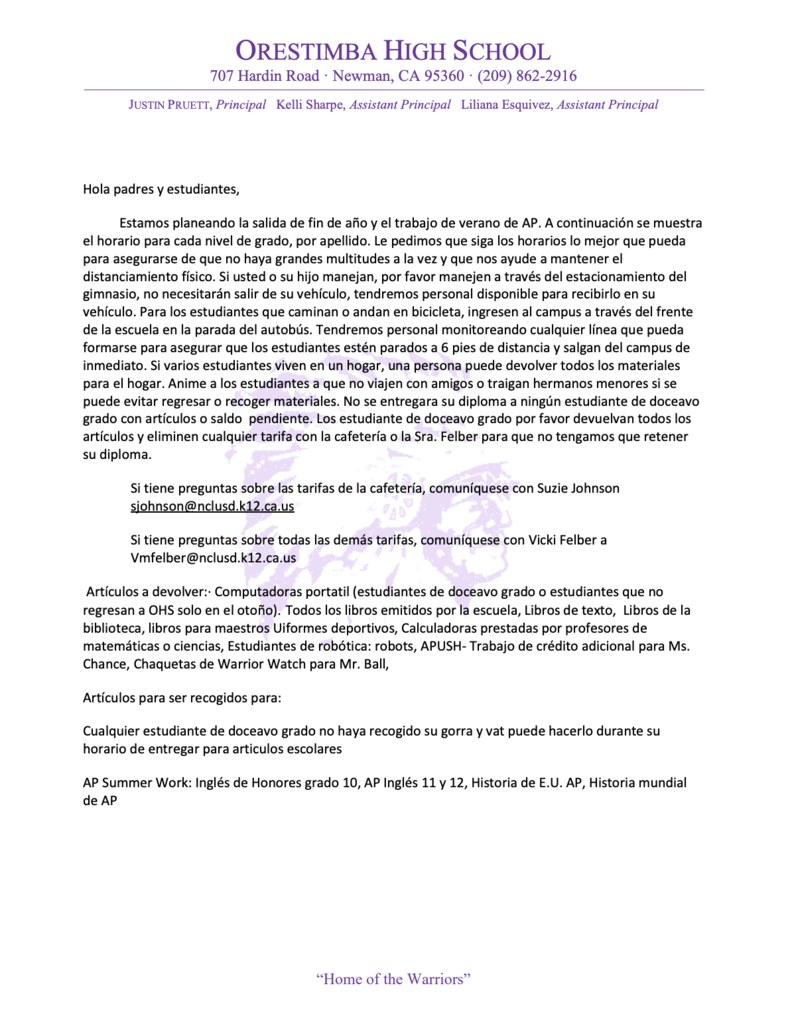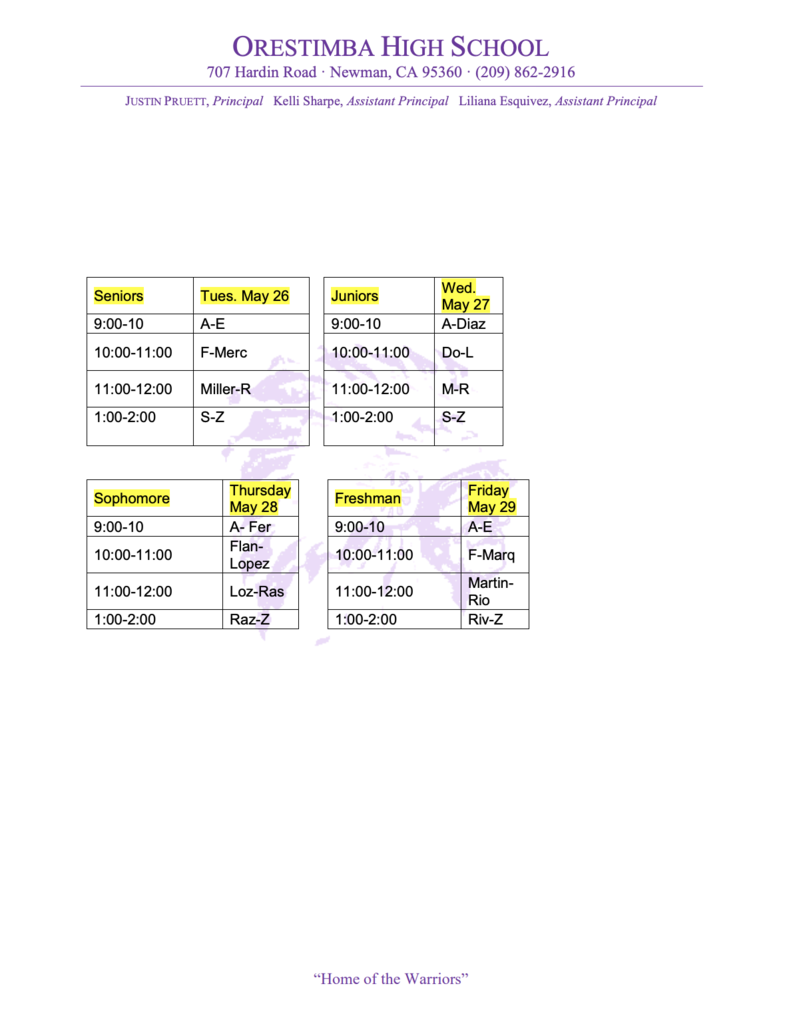 Our schools wouldn't be complete without you. Thank you to all our classified employees for the work you do!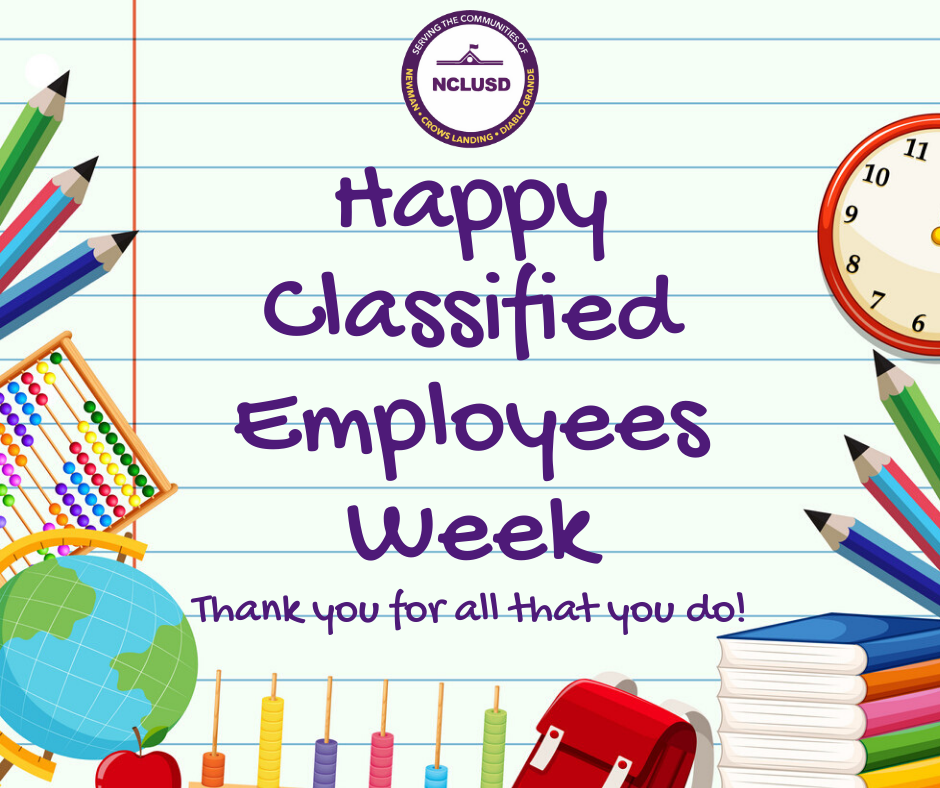 Good Morning NCLUSD! Don't ignore that rumbling in your tummies. Come grab your meals at Hurd Barrington Elementary or Von Renner Elementary from 11:00am-12:00pm. Bags include today's lunch, tonight's supper and tomorrow's breakfast, plus a fresh baked cookie to start your week off on a sweet note.