Students! Do you need a fun way to kick off your weekend? Today at 3:15 Mr. Loo will be doing a half hour "mini" rave set to get your weekend pumped. 841 7119 7137

OHS Seniors: The Jostens Spring Graduation Order Hotline is available Thursday (1/14) from 4:00-7:00 PM, or Saturday (1/16) from 9:00 AM-1:00 PM. Please call (559) 275-2800 during these hours if you have any questions about graduation orders or need assistance placing an order. You may also order online at any time by clicking this link. Jostens Fresno Office (559) 275-2800
https://www.jostens.com/apps/store/customer/1005653/Orestimba-High-School/

Meals are available for curbside pickup Mondays, Wednesdays and Fridays from 11 am - 12 pm at Hunt, Barrington, Von Renner and Yolo; Lunch Menu for January 13-22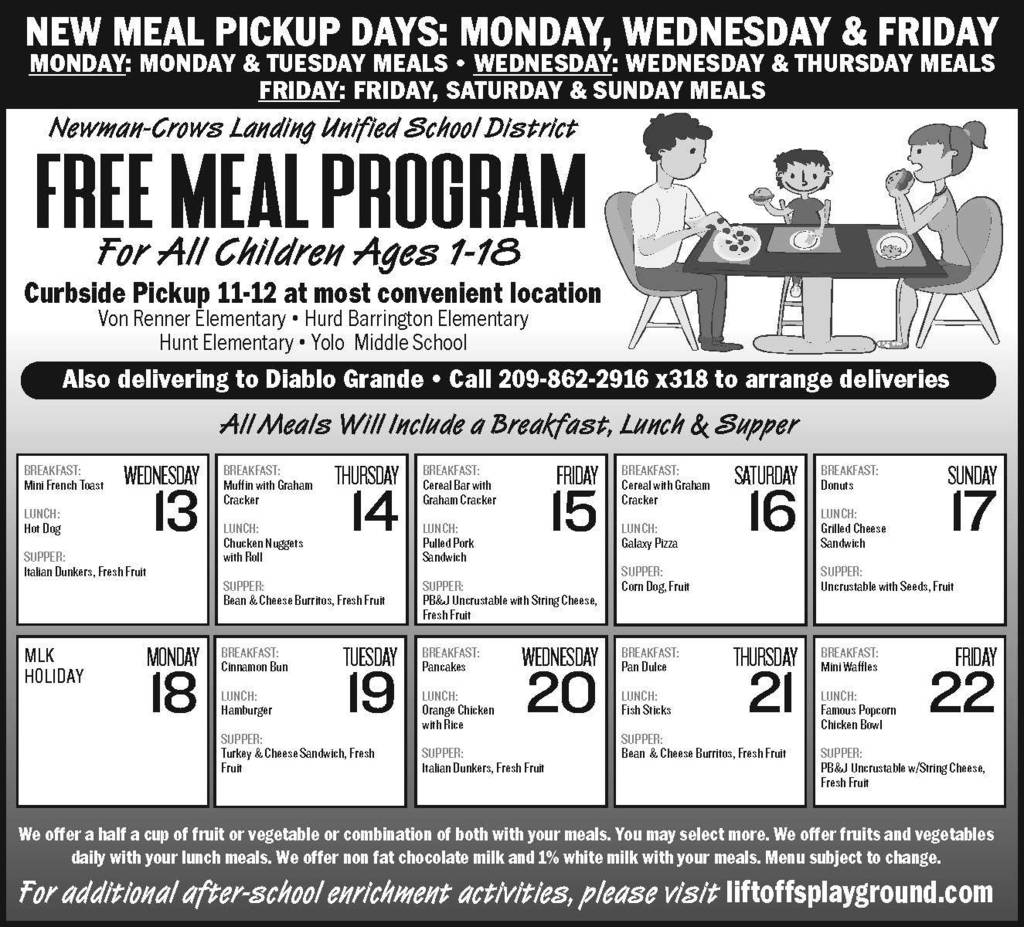 As a reminder, Second Semester starts tomorrow, Wednesday, January 6th. It is a regularGold Day (B Day), periods 5, 6, 7, and 8.

Happy New Year Warriors!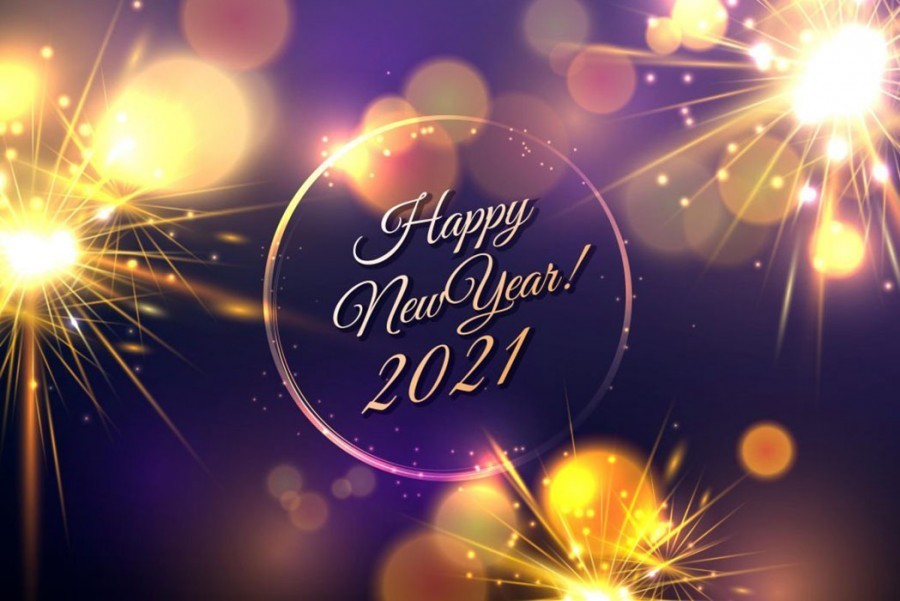 Beginning January 6, meals will be available for curbside pickup Mondays, Wednesdays and Fridays from 11 am - 12 pm at Hunt, Bonita, Barrington, Von Renner and Yolo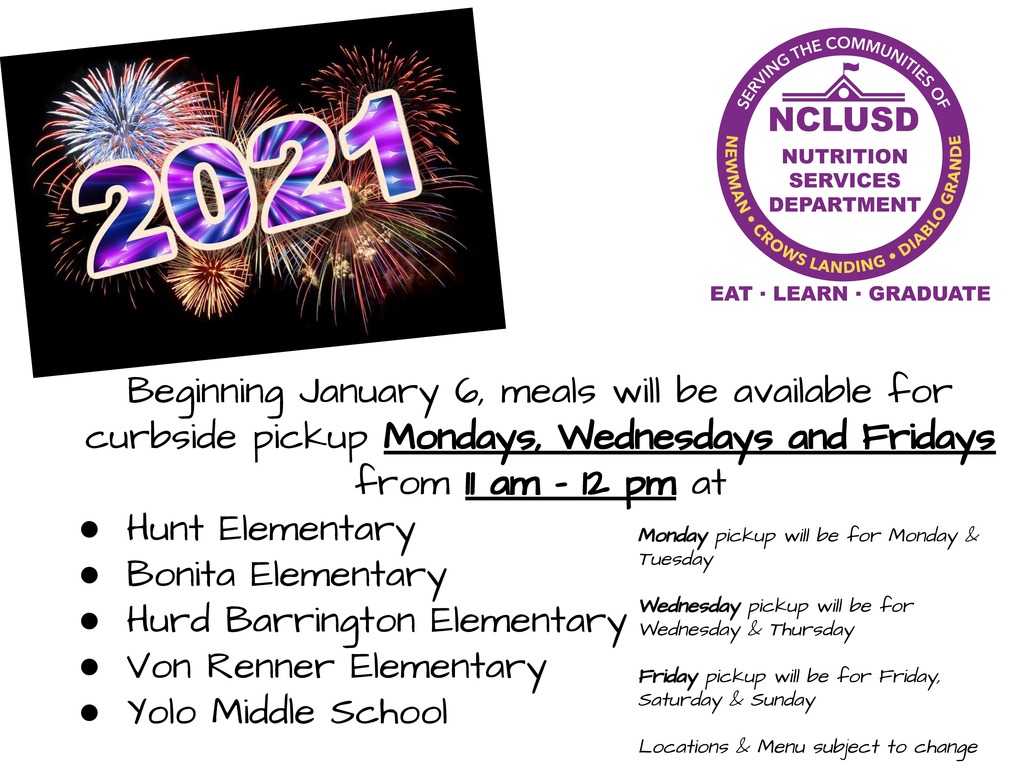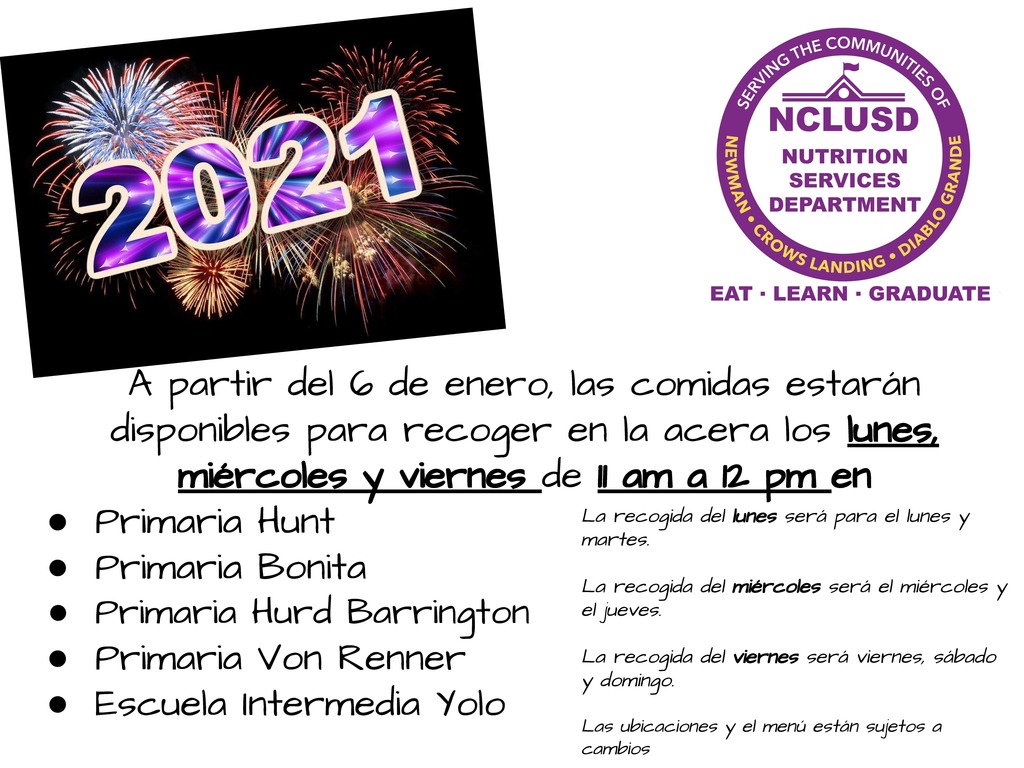 NCLUSD will transition all instruction to distance learning when we return from winter break January 6, 2021 through the third quarter of the school year ending March 12, 2021.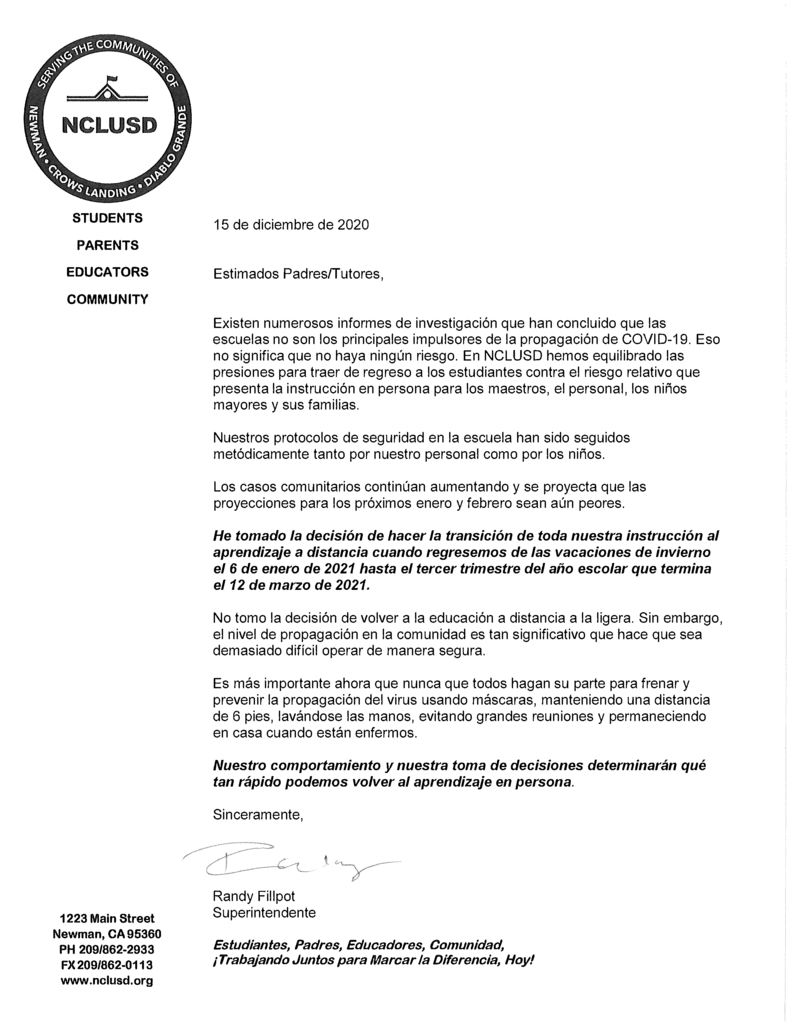 Seniors- We encourage you to submit your financial aid application before Dec 31, 2020. Remember, the final deadline is March 2, 2021 to qualify for Cal Grants and Federal Grants. Completing the financial aid application is part of the Senior Project this year. More details about the Senior Project will be provided during Study Hall.

Today is Early Release Schedule.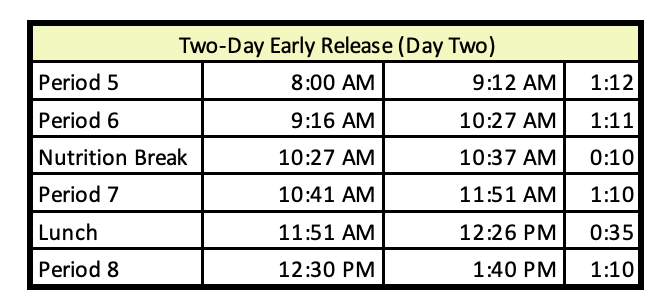 CSU's and UC's have extended their Application Deadlines! University of California (UC) Extended Application Deadline: Friday, Dec 4 @ 11:59PM California State University (CSU) Extended Application Deadline: Tuesday, Dec 15 @ 11:59PM

NCLUSD is offering meal kits for children ages 1-18 to ensure children in our community have food during Winter Break. Registration starts December 1, 8am. Pre-Order Here:
https://forms.gle/ASvjNxZXFrd1MiXk9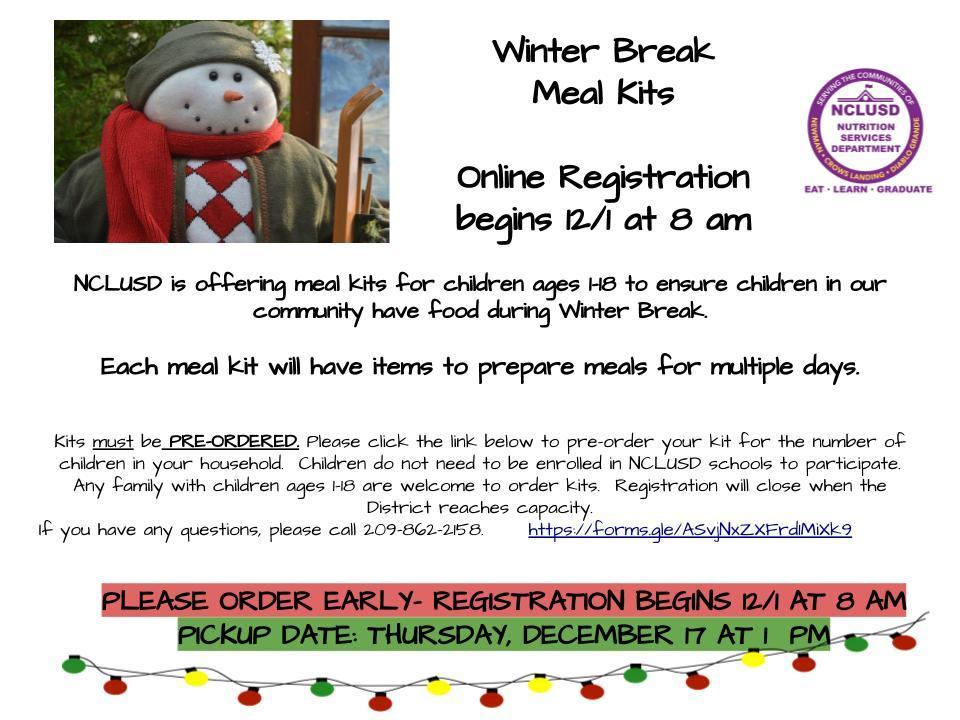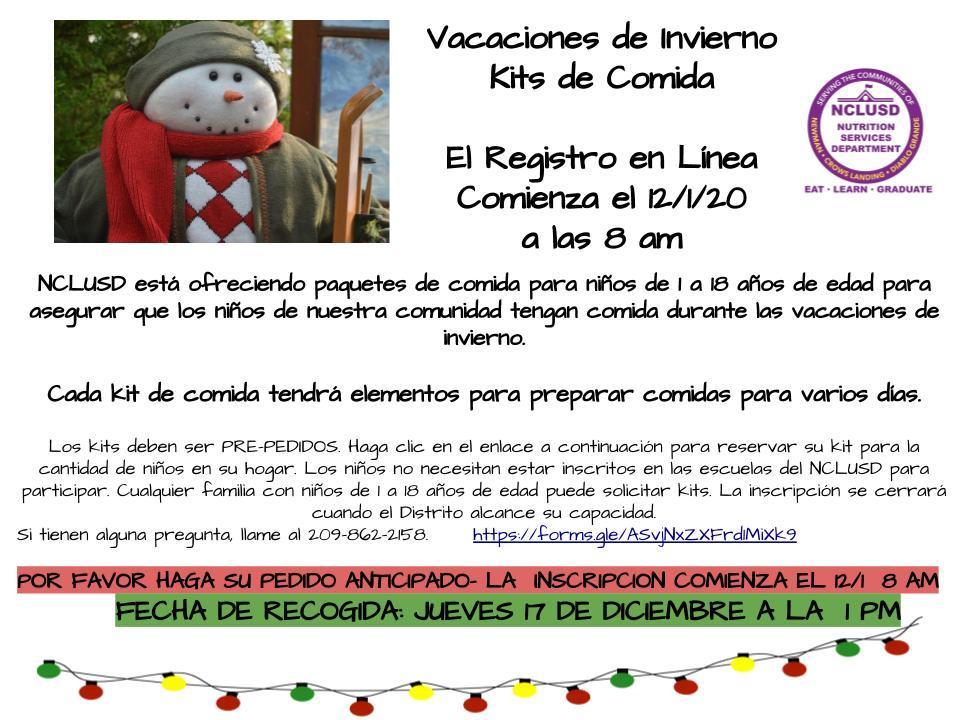 As a reminder, today is an early release schedule.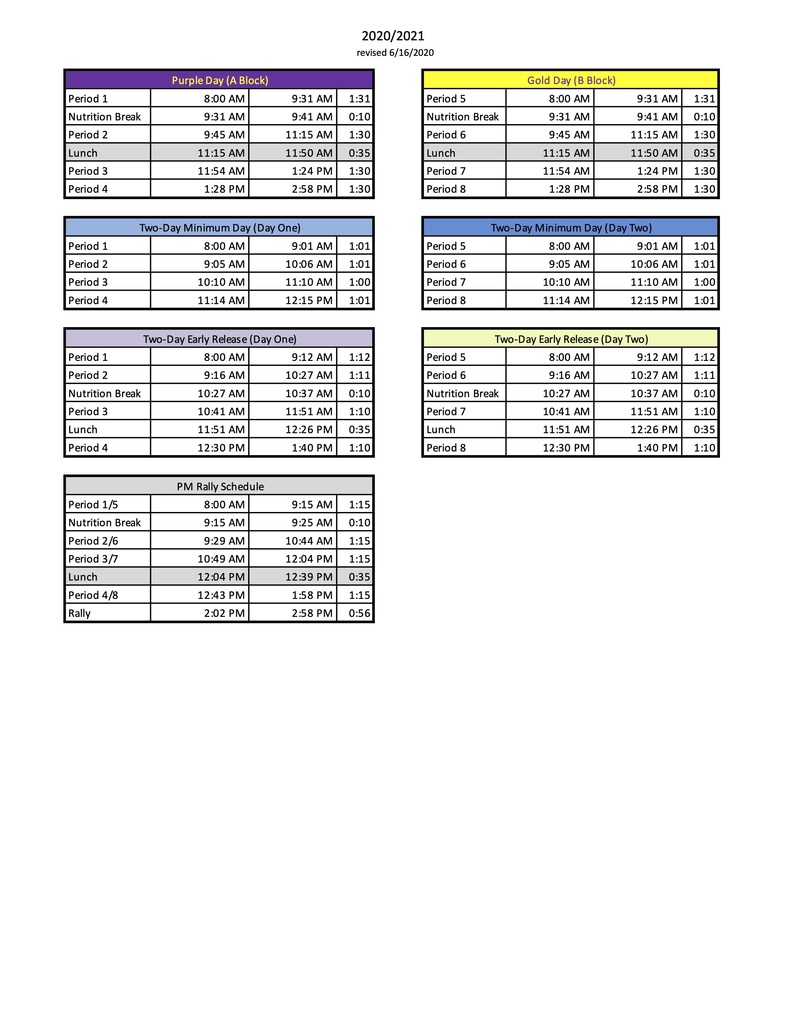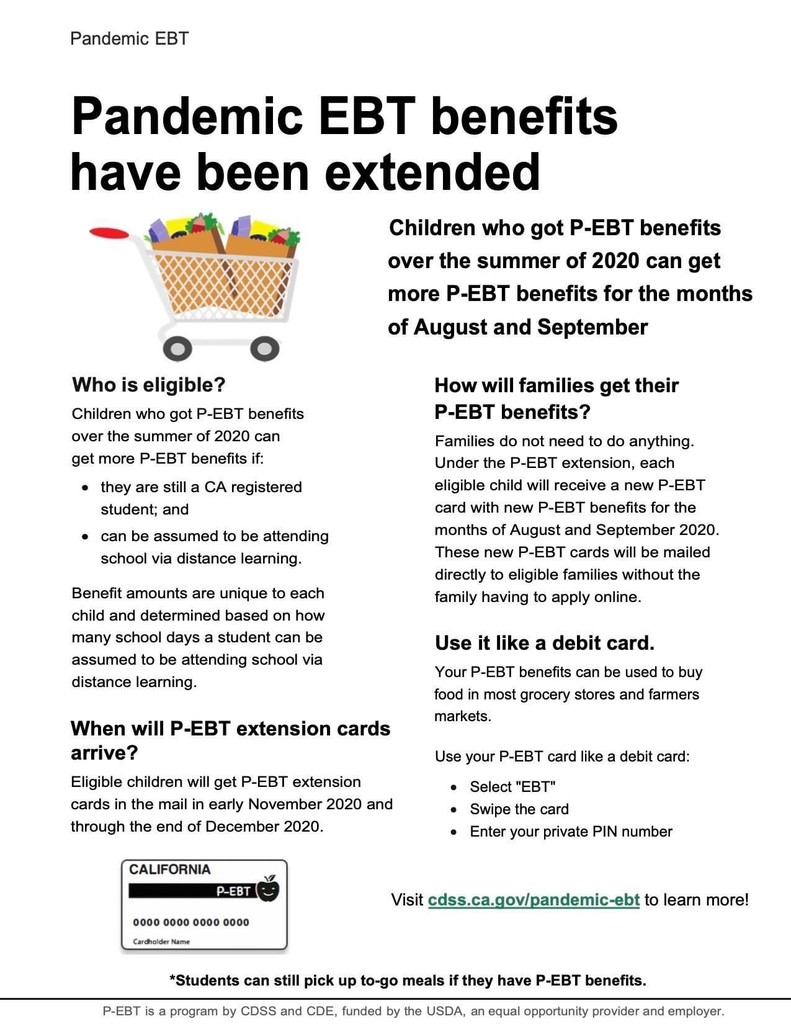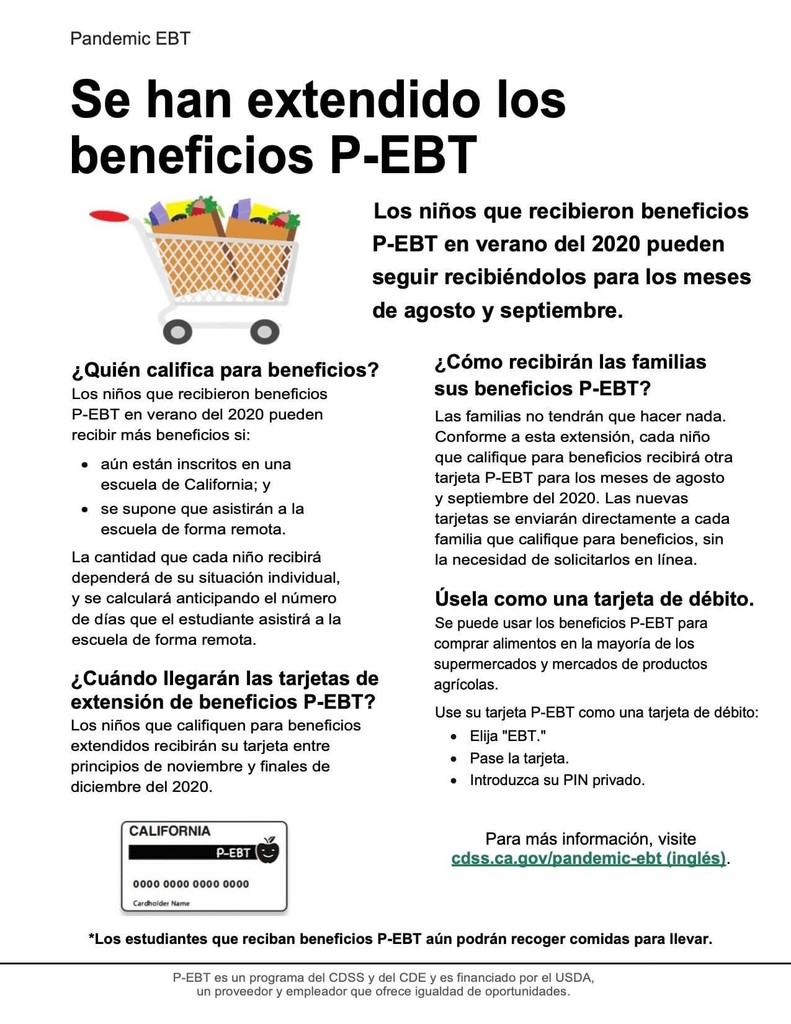 November lunch time distribution changes beginning November 2nd.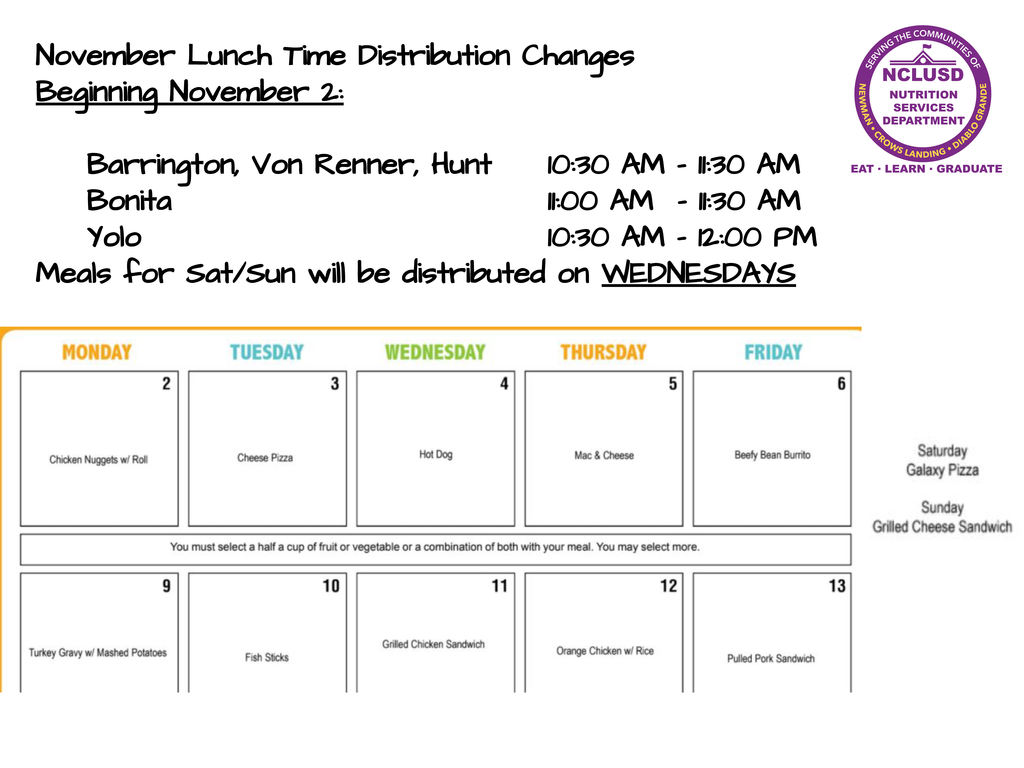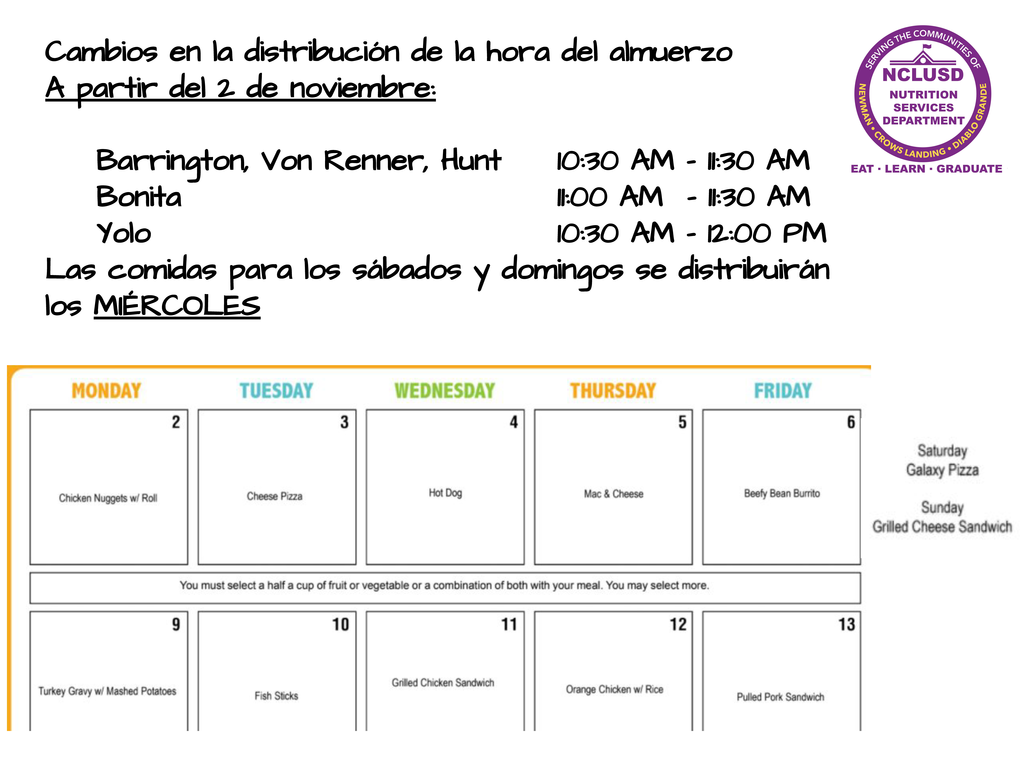 As a reminder, Monday, October 26th is Early Release. We will be following the Early Release Schedule.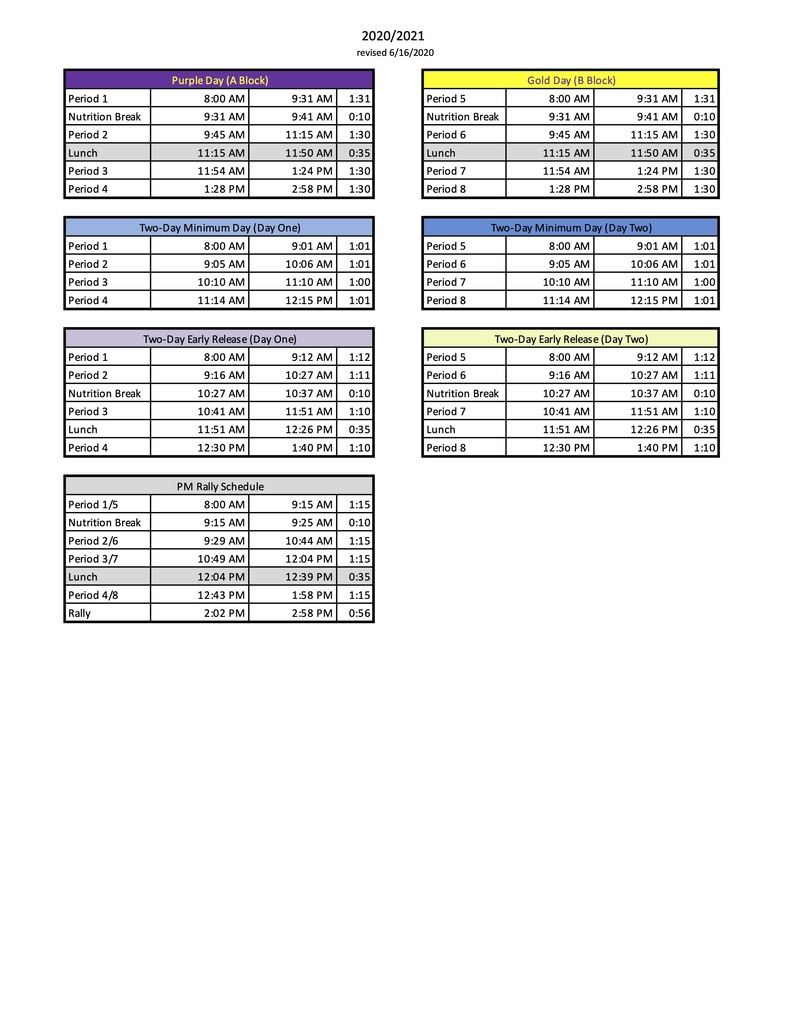 HOME ALONE OCTOBER 26th – 30th Monday: Make Yourself at Home Dress in Pajamas - Challenge: Make the biggest breakfast Tuesday: Filthy Animal Dress Like an Animal - Challenge: Take a picture with pet Wednesday: Fashion in New York City Dress Crazy *Whacky Wednesday* - Challenge: Make a room very crazy Thursday: Who Are You? Dress Like a Robber - Challenge: Show Your Partner in Crime & Villain Names Friday: Forget Me Not Spirit Day-Wear Purple & Gold - Challenge: Make a video thanking someone for an act of kindness

As a reminder, Friday, October 23rd is Regular Day Schedule. The minimum day that was originally on the calendar, has been moved to second semester. We will be following the Regular Bell Schedule on Friday, October 23rd.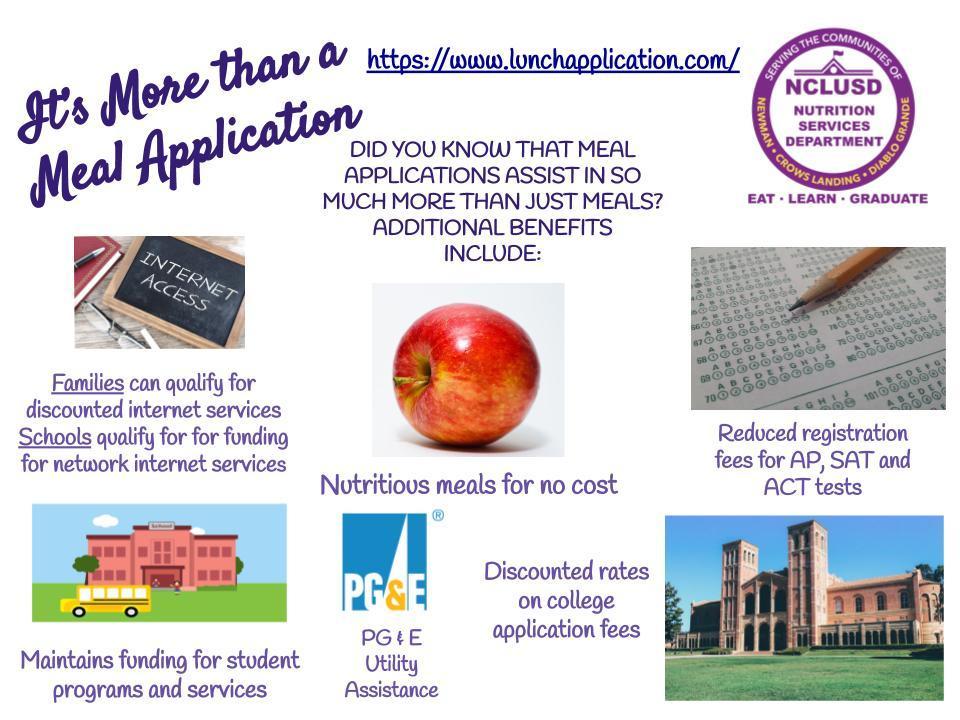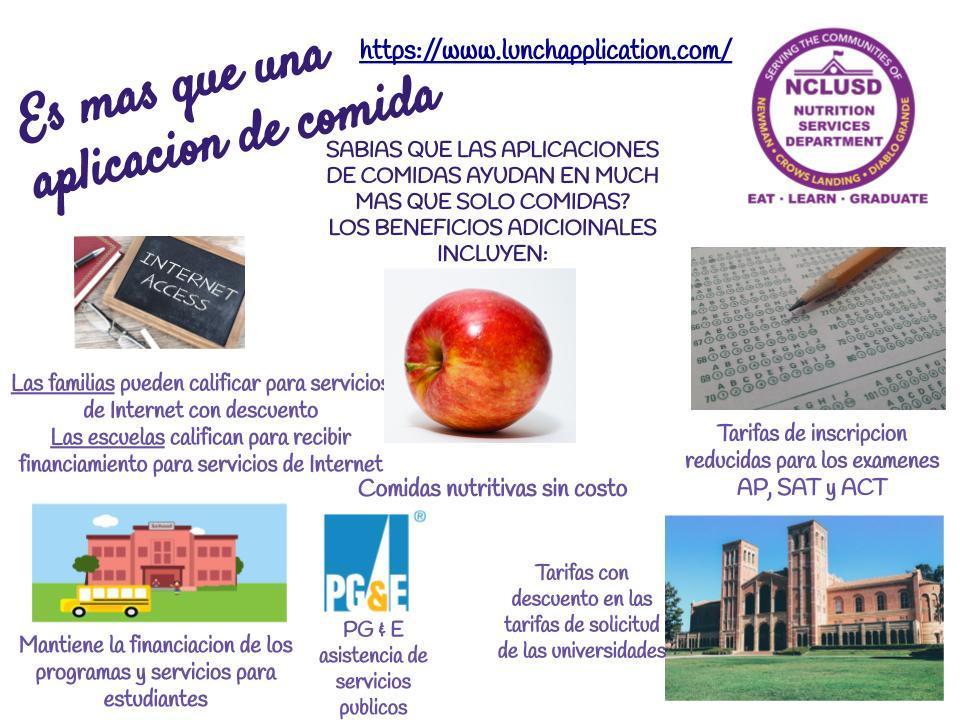 We are hoping to contribute to the fight against breast cancer again this year, even though not in the same way we are used to. Here is the link to donate for Dig Pink this year.
https://giving.side-out.org/campaigns/16851

Monday, September 28th is an Early Release B Day Schedule. Attached is the Bell Schedule for Monday.